Replacement and Repair of Refrigerator Compressors in Winnipeg
When the compressor of your refrigerator fails unexpectedly, it can jeopardize the functionality of the entire appliance. That's where our emergency replacement and repair services for refrigerator compressors come to the rescue. We understand the critical role that the compressor plays in maintaining proper cooling and preserving your perishable food items.
Our skilled technicians specialize in emergency replacement and repair of refrigerator compressors, providing prompt and efficient solutions to get your refrigerator back up and running. Whether it's a complete compressor failure or a malfunctioning component, we have the expertise to diagnose the issue accurately and offer the most suitable course of action.
With our 24/7 emergency services, we prioritize your convenience and aim to minimize the downtime of your refrigerator. Our technicians are equipped with the necessary tools and genuine replacement compressors to ensure a seamless repair or replacement process.
We understand the importance of a reliable and efficient refrigerator, especially during emergencies. That's why we strive to deliver high-quality service and use only genuine parts to ensure the longevity and optimal performance of your appliance.
Whether you're a homeowner or a business owner, we are here to assist you in your time of need. Our emergency replacement and repair services for refrigerator compressors are designed to restore the functionality of your appliance and prevent any further spoilage of your valuable food items.
We will contact you very shortly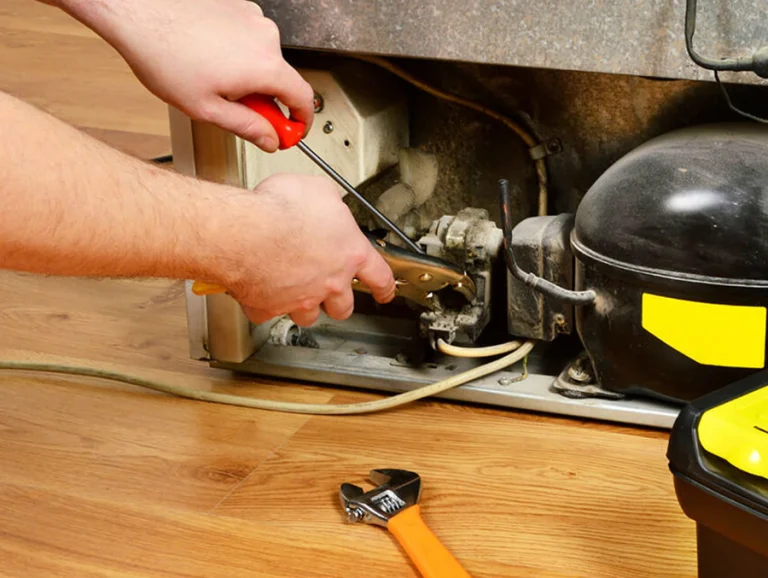 Approved service by our clients
I didn't expect my washer to be ready so quickly. Even it was the leak out of nowhere the guy found it and fixed it. Moreover, he explained what happened and told
I've been using my washer already for 13 years. Thanks to Fix Up team I shouldn't go to store an by a new one. It saved me a fortune, or I didn't lose it. Well done.
​Admiral • Amana • American Standard • Arcoaire • Bosch • Broan • Broan-Nu Tone LLC • Bryant • Carrier • Coleman • Dacor • Electrolux • Fisher & Paykel Appliances • Five Star • Frigidaire • GE Consumer & Industrial • GE Monogram • Gibson • Goodman • Honeywell • Hotpoint • Jenn-Air • Kenmore • KitchenAid • Lennox International • LG Electronics • Magic Chef • Maytag • Rheem • Rinnai • Roper • RUUD • Sears • Speed Queen • Sub-Zero Freezer • Tappan • Thermador • Trane • Viking • Whirlpool Corporation • York​


















Has the refrigerator compressor leaked?
Call us right now to get fast and affordable repair of refrigerator compressors in Winnipeg and its surrounding areas.
Call: (431) 338-8338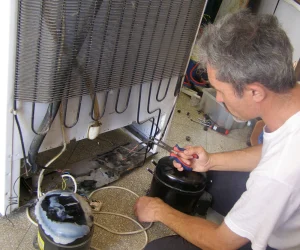 What is a Refrigerator Compressor?
A refrigerator compressor is a vital component that plays a crucial role in the cooling process of your fridge. It is responsible for compressing refrigerant gas to turn it into a liquid, which then flows through the cooling system to cool the fridge. A malfunctioning compressor can lead to inadequate cooling or complete failure of your refrigerator.
Signs of a Faulty Refrigerator Compressor
A faulty compressor can cause several issues in your refrigerator. The following are some signs that indicate a problem with your compressor:
The refrigerator is not cooling adequately.
The fridge is making strange noises or sounds.
The compressor is hot to the touch.
The refrigerator is leaking water.
The compressor is constantly running.
If you notice any of these signs, it's time to get your refrigerator compressor checked out.
Repairing or Replacing Your Refrigerator Compressor
Repairing or replacing a refrigerator compressor is a complex and intricate process that requires technical expertise. It's best to leave this job to professionals who have the necessary skills and tools.
When you contact a professional, they will start by examining your refrigerator to determine the problem with the compressor. They may use specialized tools to test the compressor's voltage and current. Once they have identified the issue, they will either repair or replace the compressor.
Tips for Maintaining Your Refrigerator Compressor
It's always better to prevent a problem than to fix it. The following tips will help keep your refrigerator compressor functioning correctly:
Keep the coils clean: Dust and dirt accumulation on the coils can cause the compressor to work harder than it should, leading to premature failure.
Keep the fridge doors closed: Keeping the fridge doors open for extended periods can cause the compressor to overwork, leading to damage.
Avoid overloading the fridge: Overloading the fridge can cause the compressor to work harder than it should, leading to failure.
Get regular maintenance: Regular maintenance checks can help identify potential issues before they turn into major problems.

Benefits of a Professional Repair or Replacement
Having a professional repair or replace your refrigerator compressor comes with several benefits, including:
Proper diagnosis of the problem
Quality replacement or repair of the compressor
Warranty on the work
Safe handling of refrigerants
A longer lifespan for your refrigerator
The compressor is the heart of your refrigerator's cooling system, and a malfunctioning compressor can lead to inadequate cooling or complete failure of your refrigerator. If you notice any signs of a faulty compressor, it's best to contact a professional to repair or replace it. Moreover, proper maintenance can help prevent potential issues and keep your compressor functioning correctly for an extended period.
How long does it take to replace a refrigerator compressor?
The time required to replace a refrigerator compressor depends on several factors, including the type of refrigerator and the complexity of the repair. Typically, the process can take anywhere from 1 to 3 hours.
Can a compressor be repaired instead of replaced?
In some cases, a compressor can be repaired instead of replaced. However, this depends on the nature of the problem and the cost of the repair versus replacement.
How often should a refrigerator compressor be replaced?
A refrigerator compressor should last around 10 to 15 years, but this can vary depending on usage and maintenance. If your compressor fails before this timeframe, it may be due to a manufacturing defect or improper installation