When your cooktop malfunctions, it can disrupt your cooking routine and cause frustration. That's where our professional cooktop repair services come in. We understand the importance of a properly functioning cooktop in your kitchen, and we are here to provide efficient and reliable solutions.
Our team of experienced technicians specializes in cooktop repair, handling a wide range of issues with expertise and precision. Whether it's a faulty burner, an ignition problem, temperature control issues, or any other cooktop malfunction, we have the knowledge and skills to diagnose and fix the problem effectively.
We offer prompt and convenient service to ensure that your cooktop is back up and running as soon as possible. Our technicians are equipped with the necessary tools and genuine replacement parts to provide high-quality repairs, restoring the functionality of your cooktop.
We understand that a malfunctioning cooktop can disrupt your daily cooking activities. That's why we prioritize customer satisfaction and strive to complete repairs efficiently and effectively. With our professional cooktop repair services, you can have peace of mind knowing that your kitchen appliance is in capable hands.
Whether you have a gas, electric, or induction cooktop, our technicians are experienced in handling various types and brands. We stay updated with the latest technologies and repair techniques to provide comprehensive and reliable services.
We will contact you very shortly
Approved service by our clients
I didn't expect my washer to be ready so quickly. Even it was the leak out of nowhere the guy found it and fixed it. Moreover, he explained what happened and told
I've been using my washer already for 13 years. Thanks to Fix Up team I shouldn't go to store an by a new one. It saved me a fortune, or I didn't lose it. Well done.
​Admiral • Amana • American Standard • Arcoaire • Bosch • Broan • Broan-Nu Tone LLC • Bryant • Carrier • Coleman • Dacor • Electrolux • Fisher & Paykel Appliances • Five Star • Frigidaire • GE Consumer & Industrial • GE Monogram • Gibson • Goodman • Honeywell • Hotpoint • Jenn-Air • Kenmore • KitchenAid • Lennox International • LG Electronics • Magic Chef • Maytag • Rheem • Rinnai • Roper • RUUD • Sears • Speed Queen • Sub-Zero Freezer • Tappan • Thermador • Trane • Viking • Whirlpool Corporation • York​


















Give Us a Call Right Away for a quick and affordable Cooktop repair service 
Call: (431) 338-8338
Professional Cooktop Repair in Winnipeg
Cooktops are essential appliances in modern kitchens, providing a convenient and efficient way to cook meals. However, like any other appliance, they can experience issues that may require repair. In this article, we will explore common problems that can occur with cooktops, offer troubleshooting techniques, provide DIY repair tips, discuss when to seek professional help, and highlight preventive maintenance practices to keep your cooktop in excellent working condition, specifically focusing on cooktop repair in Winnipeg.
Common Issues with Cooktops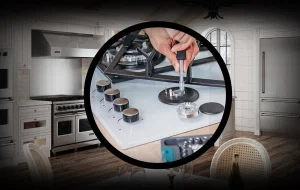 Burner Problems
Burner problems are one of the most common issues encountered with cooktops. These can include burners not heating evenly, weak flame, or burners not igniting. These problems can disrupt your cooking process and make it difficult to prepare meals efficiently.
Ignition Issues
Ignition problems can occur in cooktops with electronic ignition systems. The ignition may fail to spark or produce a continuous clicking sound without igniting the burner. This can be frustrating and hinder your ability to use the cooktop effectively.
Temperature Control Malfunctions
Inaccurate temperature control is another common issue. The cooktop may have difficulty maintaining the desired temperature, leading to overcooking or undercooking of food. This can be a major inconvenience when preparing delicate dishes that require precise heat control.
Electrical Connection Problems
Electrical connection problems can affect the functioning of the cooktop. Loose or faulty connections can cause intermittent power supply, leading to inconsistent heating or complete failure of the cooktop.
When to Seek Professional Help
While some cooktop issues can be resolved through DIY repairs, there are situations where professional assistance is necessary:
Complex Electrical Repairs
If the issue involves complex electrical components or wiring, it's advisable to consult a qualified technician. They have the knowledge and expertise to handle electrical repairs safely and effectively.
Gas Leaks or Safety Concerns
If you suspect a gas leak or notice any safety concerns, such as a strong gas odor or unusual noises, immediately evacuate the area and contact a professional technician or your gas utility provider. Gas-related issues require immediate attention due to the potential hazards involved.
If your cooktop is still under warranty, check the terms and conditions. Some repairs may be covered by the warranty, and it's recommended to utilize authorized service providers to ensure the warranty remains valid.
Preventive Maintenance for Cooktops
To keep your cooktop functioning optimally and minimize the need for repairs, consider the following preventive maintenance practices:
Regular Cleaning and Maintenance
Clean your cooktop regularly to remove spills, grease, and food debris. Use suitable cleaners and non-abrasive sponges or cloths to avoid scratching the surface. Regular maintenance will help prevent buildup and ensure proper functioning.
Proper Use and Care
Follow the manufacturer's instructions for proper use and care of your cooktop. Avoid using oversized or misshapen cookware that may disrupt heat distribution. Use suitable utensils and avoid dragging them across the cooktop surface to prevent scratches.
Avoiding Spills and Stains
Promptly clean up spills and stains to prevent them from hardening or causing damage to the cooktop. Be cautious when cooking with liquids that may boil over or splatter. Using protective cooktop liners can also help in preventing stains and spills.
Regular maintenance and timely repairs are crucial to keep your cooktop in excellent working condition. By troubleshooting common problems, utilizing DIY repair tips responsibly, knowing when to seek professional help, and practicing preventive maintenance, you can ensure that your cooktop continues to serve you well in your Winnipeg home. Remember to prioritize safety, consult the manufacturer's instructions, and enjoy the convenience of a fully functioning cooktop for all your cooking needs.
How often should I clean my cooktop?
It's recommended to clean your cooktop regularly, ideally after each use. Promptly wipe away spills and stains to prevent them from hardening and becoming more difficult to remove.
Can I repair a gas cooktop issue myself?
Gas cooktop repairs involve working with potentially hazardous gas connections. It's best to leave gas-related repairs to professionals who have the necessary training and expertise to handle them safely.
How long do cooktops typically last before needing repairs?
The lifespan of a cooktop can vary depending on the brand, usage, and maintenance. With proper care, a well-maintained cooktop can last for several years before needing significant repairs.
What should I do if I smell gas coming from my cooktop?
If you smell gas coming from your cooktop, it's crucial to take immediate action. Turn off the gas supply, evacuate the area, and contact a professional technician or your gas utility provider to address the issue.
Can I use any cookware on my cooktop?
It's essential to use cookware that is suitable for your specific cooktop type. Follow the manufacturer's guidelines regarding the types of cookware that can be safely used on your cooktop to prevent damage and ensure optimal heat distribution.