Microwave Repair Winnipeg
Arguably, cosy and well-equipped kitchen is the heart of your home. It's where myriad happy moments are shared over family or friends dinners, where important conversations usually take place during cooking. And it can be really frustrating when your kitchen appliances start malfunctioning. Fix Up Pro is here to help and restore your comfort and convenience! We offer reliable service in Winnipeg, Manitoba and London, Ontario, along with the surrounding areas when you need it the most. Just call us at (431)33-88-338 or complete our simple online form.
Types of Kitchen Appliances We Repair:
Refrigerator & Freezer Repair

Dishwasher

Oven & Stove

Microwave Oven

Range Hood
We will contact you very shortly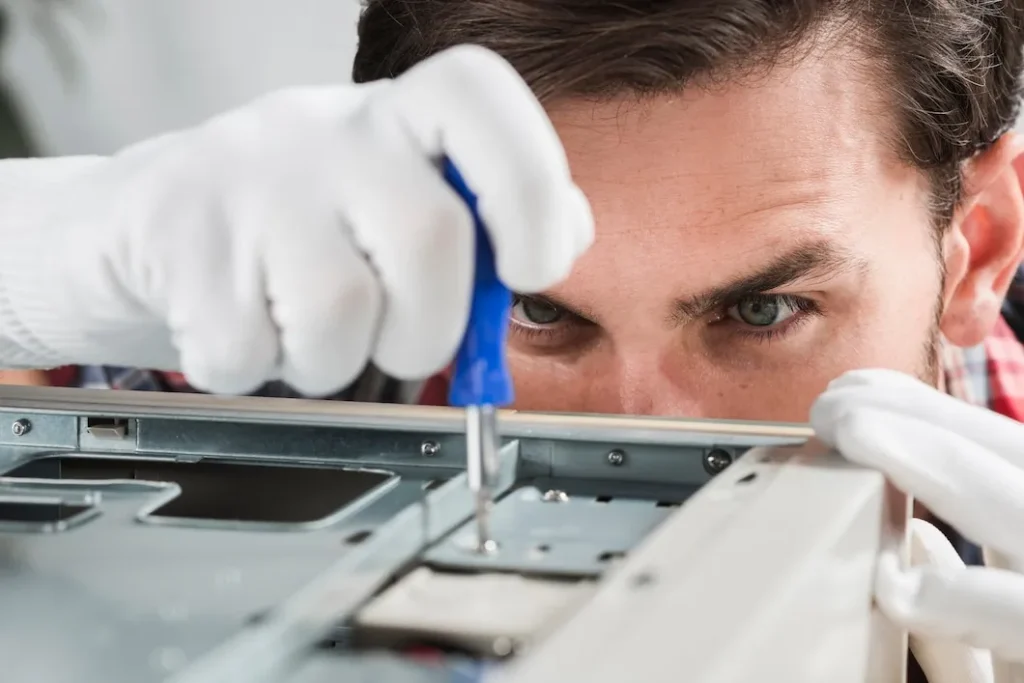 Approved service by our clients
I didn't expect my washer to be ready so quickly. Even it was the leak out of nowhere the guy found it and fixed it. Moreover, he explained what happened and told
I've been using my washer already for 13 years. Thanks to Fix Up team I shouldn't go to store an by a new one. It saved me a fortune, or I didn't lose it. Well done.
​Admiral • Amana • American Standard • Arcoaire • Bosch • Broan • Broan-Nu Tone LLC • Bryant • Carrier • Coleman • Dacor • Electrolux • Fisher & Paykel Appliances • Five Star • Frigidaire • GE Consumer & Industrial • GE Monogram • Gibson • Goodman • Honeywell • Hotpoint • Jenn-Air • Kenmore • KitchenAid • Lennox International • LG Electronics • Magic Chef • Maytag • Rheem • Rinnai • Roper • RUUD • Sears • Speed Queen • Sub-Zero Freezer • Tappan • Thermador • Trane • Viking • Whirlpool Corporation • York​


















Is your microwave oven broken?
Call us today for fast, affordable microwave oven repairs in and around Winnipeg.
Call: (431) 338-8338
Are you looking to fix your malfunctioning microwave as soon as possible? When the microwave stops functioning, it becomes necessary to find a specialist to repair it. Fix Up Pro is one of the leading appliance repair services in Winnipeg, specializing in repairing microwaves of all types. Whether you're a working professional or a homemaker, a microwave is used in almost every house. From reheating food to melting chocolate, this great appliance makes our life easier. But often it stops working either due to a power surge or improper usage. No matter how your microwave has got damaged, we are here to repair it! At Fix Up Pro, we have successfully repaired hundreds of microwaves of all brands. Our microwave technician undergoes extensive training to acquire skills for handling any kind of problem.
Whether your appliance isn't turning on or cooking is taking longer, we know the best solutions for all types of faults. A damaged or malfunctioning microwave can be a big nuisance. Also, hiring an unknown repair professional can be risky. However, Fix Up Pro is a full-service appliance repair company that is trusted by hundreds of homeowners throughout Winnipeg, London, Manitoba, Ontario, and nearby areas. We aim to make microwave repair as easy and simple as possible. All you need to do is contact us, explain your problem, and schedule an appointment. Our technician will arrive at your home to diagnose the problem, give you a quote, get the replacement parts if needed, and repair your microwave as soon as possible.
We can handle all possible microwave issues such as:
Microwave not heating
Sparks inside the microwave
Microwave not turning on
Unusual noise or odor
Light Bulb not working
Display not working
Faulty buttons 
Turntable won't turn
Keeps blowing fuses
No signals (lights)
Quick & Reliable Microwave Repair Service
Fix Up Pro offers quick and safe microwave repair services at an affordable price. We work 24/7 to ensure that your appliances keep running all the time. No matter how small or complex your issue is, our technicians are experienced in resolving all types of microwave problems. We repair and replace microwave lights, fuses, switches, and all other components regularly.  We have access to high-quality spare parts that are recommended by manufacturers to perform safe and effective microwave repair. From Samsung and LF to Panasonic and all other brands, we repair all types of microwaves. Whether you have a countertop microwave, built-in microwave, under counter microwave, convection microwave oven, grill microwave oven, or any other type, we can repair all types, makes, and models.
At Fix Up Pro, we take great pride in our professionalism, speedy services, and attention to detail. We are trusted by homeowners because we offer same-day services and never charge unreasonable prices. Also, instead of using quick-fix methods, we focus on finding permanent solutions. We never compromise with the quality of our service and always keep our customers well-informed throughout the repair process. So if you are experiencing any problems with your microwave, contact us for safe and efficient repair services.
Microwave Repair: Tips for Maintaining and Fixing Common Issues
Microwaves are essential appliances in most homes, providing quick and easy meal preparation. However, like any other appliance, microwaves can encounter issues and require repair. In this article, we'll provide tips for maintaining your microwave and fixing common issues to keep it running smoothly.
Clean the microwave regularly. A dirty microwave can affect its performance and even pose health risks. To keep your microwave clean, wipe down the interior and exterior surfaces with a damp cloth after each use. If there are any spills or stains, use a mixture of water and mild dish soap to clean them up. You can also use a microwave-safe bowl of water with a few drops of lemon juice to steam clean the interior.
Check the door seal. The door seal is an essential component that prevents microwave radiation from escaping. If the seal is damaged or worn out, it can affect the microwave's performance and even pose a safety risk. Check the door seal regularly and replace it if necessary. You can test the door seal by placing a piece of paper between the door and the microwave and closing it. If you can easily pull the paper out, the seal may need to be replaced.
Use microwave-safe dishes and utensils. Using the wrong type of dishes or utensils in the microwave can cause damage and even create a fire hazard. Always use microwave-safe dishes and utensils, such as glass, ceramic, or plastic that is labeled as microwave-safe. Avoid using metal or aluminum foil, as they can cause sparks and damage to the microwave.
Check the power supply and fuses. If your microwave isn't turning on or is experiencing power issues, check the power supply and fuses. Make sure the microwave is plugged in and the outlet is functioning properly. If the microwave has a blown fuse, replace it with a new one. If the issue persists, it may be a problem with the microwave's internal components and require professional repair.
Check the turntable and roller ring. If the turntable or roller ring is not functioning properly, it can affect the microwave's cooking performance. Check the turntable and roller ring regularly for any damage or wear and tear. If there are any issues, replace the damaged parts.
Call a professional for complex issues. If your microwave is experiencing complex issues or you're not comfortable making repairs yourself, call a professional for assistance. A professional technician can diagnose and repair any issues with your microwave, ensuring it's safe to use and functioning properly.
By following these tips, you can maintain your microwave and fix common issues to keep it running smoothly. However, if you encounter any complex issues or are unsure about how to repair your microwave, don't hesitate to call a professional for assistance. With proper maintenance and care, your microwave can provide you with many years of convenient meal preparation.
Why is my microwave not heating up my food?
There could be several reasons why your microwave is not heating up your food, including a faulty high voltage diode, a malfunctioning magnetron, or a defective thermal cutoff switch. A professional microwave repair technician can diagnose and fix the problem for you.
Can I repair my microwave myself?
Microwave repairs can be dangerous and are best left to professional repair technicians. Attempting to repair your microwave yourself can cause more damage or result in injury.
How much does it cost to repair a microwave?
The cost of microwave repairs can vary depending on the type of repair needed, the age and condition of your microwave, and the cost of replacement parts. It's best to contact a professional microwave repair technician for a quote on the cost of your specific repair needs.