How to Choose a Microwave. Part II
There are only 5 main criteria in choosing your perfect microwave oven, but each of them has pretty many nuances. That is why our appliance repair experts divided the article into two parts. Here you can read the first part.
Some specialists say that the taste of cooked food also depends on the type of microwave cavity. Well, if you are a real foodie, maybe you'll feel the difference. Anyway, each type of cavity has its own pros and cons:
Ceramic enamel coating is very durable and hard to scratch. It is also easy to clean. For instance, drops of fat flowing down the walls are easily removed with a regular kitchen sponge. Some manufacturers announce it like an "anti-bacterial coating" preventing bacterial attacks. And the ceramic cavity looks good thanks to the material's lustre. But you'll need more time to heat up the food in a microwave with a ceramic cavity. It's just physics.

Stainless steel coating better protects against microwave leakages. And it looks pretty elegant. But it is harder to keep it clean. A stainless steel oven is also durable and resistant to temperature changes. Steel is a good heat conductor, so heating up the food takes less time. As a matter of fact, stainless steel coating is used in top models, and they are more expensive than ovens having ceramic enamel coating. But looking ahead you also have a good chance to reduce your energy bills by reducing the total energy consumption by your microwave. So maybe sometimes it is wiser to pay more now to pay less later. 
3 types of microwaves control panels:
Mechanical. It is the simplest and easiest to repair control panel. As a rule, it has two rotary switches: one of which sets the power and the mode, the other – the operating time of the oven. This type of control panel is usually used in solo and grill microwave ovens. 

Push-button. It allows you to fine-tune the oven. The power level, mode, cooking time are set with one or more clicks of a button. Its main disadvantage is dirt accumulating under the buttons. So the panel is pretty hard to wash.

Touch pad. It is the most convenient one. As a matter of fact, the panel has the same buttons, but under a protective film. All advanced models of microwave ovens are equipped with the so-called interactive mode showing useful tips on the display.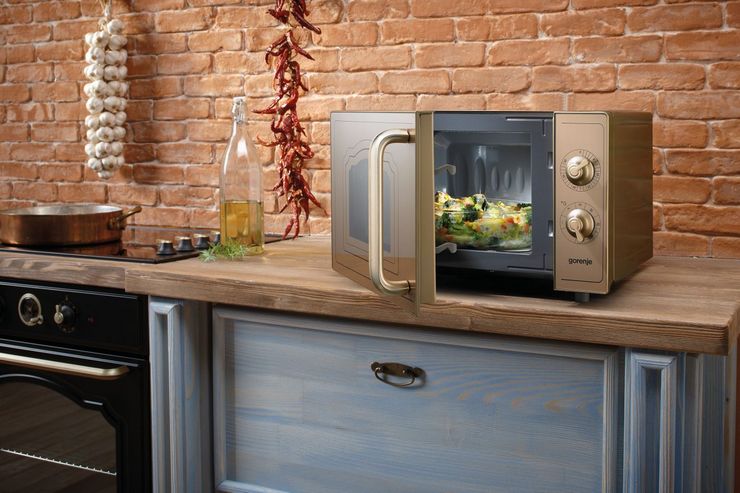 Defrost. It allows you to defrost necessary food pretty quickly. And it's much more convenient if your oven has auto-defrost. You need only to choose the type and weight of your food. Leave all the rest (power level, time) to the microwave.

Automatic cooking. All you need is to select the type of product and its weight. The microwave oven will automatically set the mode, power and time.

Automatic heating. This function is quite similar to the previous one. Just select the dish you want to heat up. Usually this mode includes: "Soup", "Ready dish", "Drinks".

Child safety lock. Disables or locks all keys, excluding any additional interference with the microwave. This one is very essential for families with small children.
Speed cooking. It allows to cook or reheat food in a very short time using more energy.

Steam cleaning. Using steam the microwave easily removes fat and food leftovers from the inside by itself.

Odor removal. As the function name suggests it removes food odors after cooking.

Sensor cooking. The microwave has sensors indicating the oven's humidity and food's moisture. According to this data it adjusts time and power level to ensure you'll get a delightful meal. 

Keep warm. It maintains a low heat level and lets you keep prepared dishes warm until they're ready to serve. 

Sound signal. Beeping alerts you that cooking, defrosting, or heating is over. Though it can be quite annoying sometimes.

Removable racks. Some models come with removable racks allowing you to cook several dishes at once.
Buying home appliances online or offline depends on your preferences. But we strongly encourage you to read reviews before purchasing the oven of your dreams. And, as a rule, big online shops have an awesome function – comparison of several models you liked. All essential features are presented in an understandable and user-friendly table. That is a great opportunity to choose your perfect microwave.  And then you can order it online or buy in your favourite offline shop. 
We also advise to wait until Black Friday or another considerable sale. Unless you are compelled to buy a new oven because your microwave malfunctions. 
P.S. If your kitchen or laundry appliance malfunctions call us at (431)33-88-388 before considering buying a new one. You'll get a free quote and same day appointment if it is needed.