The refrigerator is one of the most used appliances in a typical home. From storing cooked meals to keeping the veggies fresh, this appliance has become an indispensable part of our lives. Most of us never appreciate the importance of this appliance until it stops working. Refrigerators are built to withstand rough use but often due to several factors, they malfunction. And when that happens, only a refrigerator repair specialist can help!
At Fix Up Pro, we understand the importance of a working refrigerator. To ensure that homeowners have access to a working fridge all the time, we provide a 24/7 refrigerator repair service in Winnipeg. As an experienced appliance repair company, we can repair your refrigerator of any brand or model. To ensure that you or your family members never have to deal with spoiled or contaminated food, our technicians are available round the clock to provide emergency repair services. When it comes to a refrigerator repair, time is the essence. As a vital household appliance, the refrigerator needs to be fixed as soon as possible to avoid food spoilage.
At Fix Up Pro, we provide refrigerator repair, installation, and maintenance service for all types of refrigerators such as Stand-alone and Built-in refrigerators, side-by-side refrigerators, French doors, top and bottom mount refrigerators, freezers, and more. Moreover, no matter which brand's refrigerator you're using, our technicians are experienced in repairing fridges of all manufacturers such as Samsung, LG, Whirlpool, Maytag, GE, Kenmore, and other brands.
Our professional technicians can fix all refrigerator issues such as:
Worn electrical wiring
Dripping water inlet valves
Malfunctioning defrost heater or frost accumulation
Control panel malfunction
Damaged doors
Inaccurate thermostat
Inconsistent power
Loud noises
Lack of compression
Leaking and more!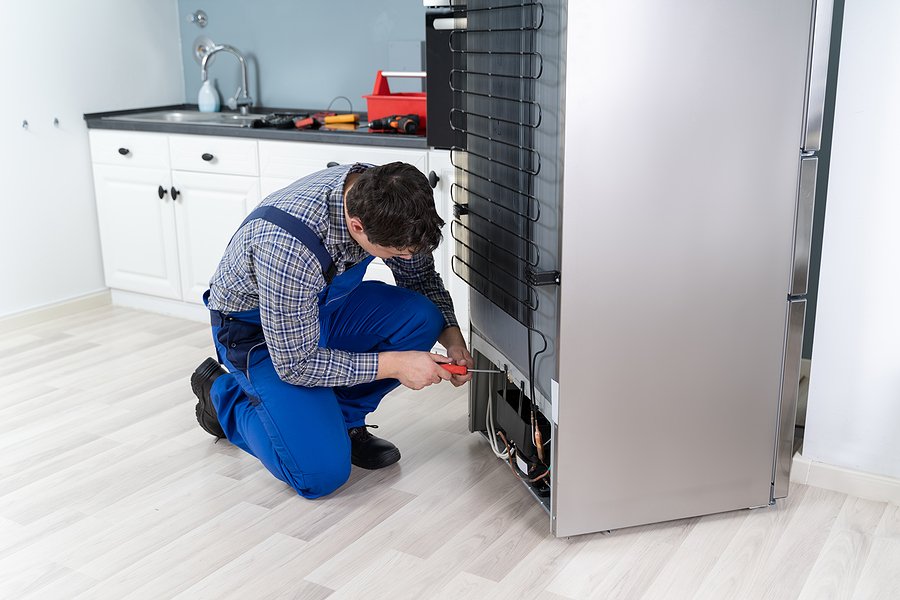 Quick & Reliable Refrigerator Repair Service
If your fridge is not keeping your food cool and fresh or is making a strange noise, contact us for prompt, effective refrigerator repair service. Whether your fridge has broken down or you need regular maintenance, we are happy to handle all your needs. If your refrigerator repair job requires the replacement of any part, we also carry genuine, high-quality spare parts. From thermostats and valves to condenser and compressor, we can repair and replace all parts of most refrigerators. Our technicians are dedicated to take care of all your household appliances and ensure smooth operation. We provide 24/7 refrigerator repairs to ensure that your appliance keeps running smoothly all the time.
To repair refrigerators of all types- new and old models, we keep upgrading our skills to keep pace with the latest technology. Our technicians are licensed and factory trained to safely and effectively repair your fridge. When repairing any appliance, we never take shortcuts or make temporary fixes. We strive to find a permanent solution for your problem so that you don't have to face a similar issue in the future. If your refrigerator repair involves the replacement of any part, we use parts that are recommended by the manufacturer for your model. Moreover, our prices are always fair and transparent with no hidden fee.