Hisense Refrigerator Repair
If your dryer is not completely drying your clothes, Fix Up Pro can help! As a full-service appliance repair company, we can fix dryers of all types and brands. We understand that it can be frustrating to find that your clothes are still wet even after the dryer has run a full cycle. Putting your clothes again in the dryer for another cycle not only wastes your time but also increases your monthly utility bills. So, to solve this issue, our technicians will arrive at your place and fix your dryer as soon as possible.
Our dryer repair technicians can handle a wide range of dryer problems- from faulty timers to broken thermostats. Moreover, we can repair both electric and gas dryers. We stay up-to-date with the latest technologies and keep training our technicians to repair all types of appliances. Whether you're using a newly launched technology or an outdated model, we have the skills needed to fix dryers of all manufacturers and models. Our technicians have knowledge of the components and latest designs used by all major manufacturers.
We have the tools and expertise needed to provide dryer repair services for both gas and electric models.
We will contact you very shortly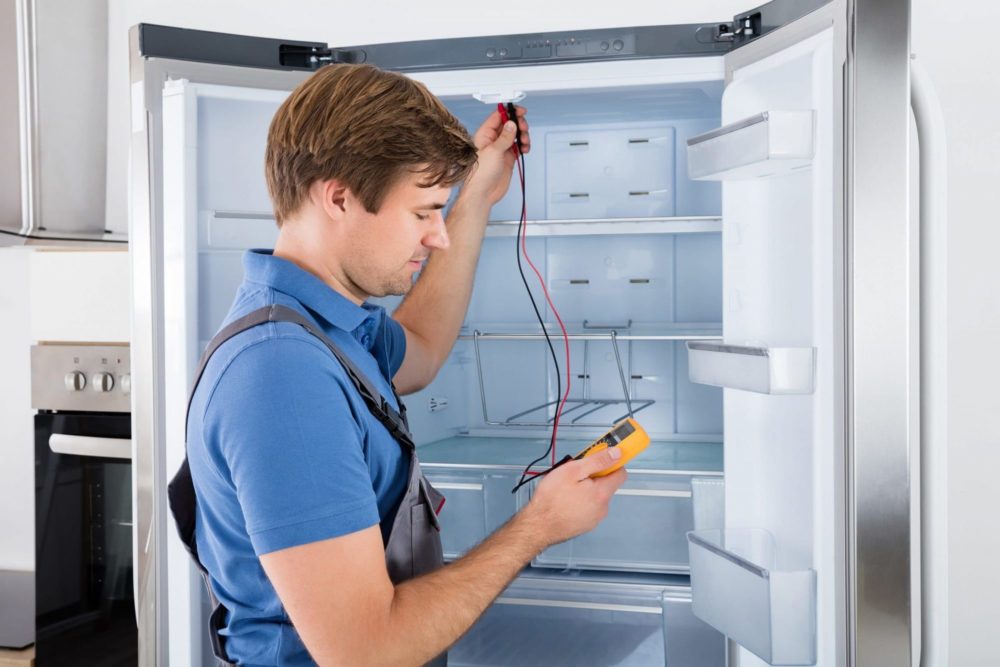 Approved service by our clients
I didn't expect my washer to be ready so quickly. Even it was the leak out of nowhere the guy found it and fixed it. Moreover, he explained what happened and told
I've been using my washer already for 13 years. Thanks to Fix Up team I shouldn't go to store an by a new one. It saved me a fortune, or I didn't lose it. Well done.
​Admiral • Amana • American Standard • Arcoaire • Bosch • Broan • Broan-Nu Tone LLC • Bryant • Carrier • Coleman • Dacor • Electrolux • Fisher & Paykel Appliances • Five Star • Frigidaire • GE Consumer & Industrial • GE Monogram • Gibson • Goodman • Honeywell • Hotpoint • Jenn-Air • Kenmore • KitchenAid • Lennox International • LG Electronics • Magic Chef • Maytag • Rheem • Rinnai • Roper • RUUD • Sears • Speed Queen • Sub-Zero Freezer • Tappan • Thermador • Trane • Viking • Whirlpool Corporation • York​


















Most Reliable Appliance Repair Company
Dealing with a malfunctioning refrigerator or faulty microwave can be frustrating. But we are here to ensure the peak performance of all your appliances. Fix Up Pro is the name you can trust for repairing all your home appliances- from refrigerators and dishwashers to washing machines, ovens, and more. We aim to provide you with the top-quality appliance repair service in Winnipeg, Manitoba, London, Ontario, and the surrounding areas. Our technicians are trained to repair broken or malfunctioning appliances of all makes and models. We understand that when any critical appliances like refrigerators, dishwashers, or oven breakdown, you need immediate assistance. To solve all your appliance-related problems, we provide same day appliance repair service. Whether it's a weekend or any time of the day, don't hesitate to contact us. As a licensed and experienced appliance repair service provider, we strive to offer safe, efficient, and reasonable services. 
No matter what the problem is, our technicians can fix any issue. With years of experience in appliance repair, we have come across almost every possible issue that home appliances may encounter. We offer repair services for a wide range of appliances including ovens, refrigerators, freezers, washers, dryers, dishwashers, range hoods, stoves, cooktops, microwaves, wine coolers, built-in coffee machines, mixers, outdoor gas grills, and much more. Whether your appliance is broken or out of order, give us a call or fill in our online form to request a technician. We have become the most trusted appliance repair company because of our commitment to excellent quality, timely service, and ensuring customer satisfaction. So, if any of your home appliances are not working, choose us for the following reasons:
Certified, Trained Licensed, & Insured Technicians
Competitive Rates, No Hidden Fees
Complete Customer Satisfaction
Same Day or Next Day Appointment
Timely Services
Use Genuine Spare Parts
Hisense Refrigerator Not Working?
Give Us a Call Right Away for a quick and affordable refrigerator repair service in Winnipeg and all surrounding areas
Call: (431) 338-8338
Hisense Refrigerator Repair
A malfunctioning refrigerator can disrupt your daily routine and lead to food spoilage. When it comes to repairing your Hisense refrigerator, it's important to have a good understanding of common issues, troubleshooting techniques, and repair procedures. This article aims to guide you through the process, providing useful information and step-by-step instructions to help you resolve problems with your Hisense refrigerator.
What is Hisense Refrigerator Repair?
Hisense refrigerator repair refers to the process of troubleshooting and fixing issues that arise in Hisense refrigerators. Hisense is a reputable brand known for its high-quality refrigeration appliances, but like any other refrigerator, it can experience malfunctions over time. Being able to diagnose and repair these issues can save you time and money.
Common Issues with Hisense Refrigerators
Before delving into the repair process, it's crucial to familiarize yourself with the common issues that Hisense refrigerators may encounter. Some of the most frequent problems include:
Temperature irregularities: Hisense refrigerators may exhibit inconsistent cooling, leading to improper food storage and potential spoilage.
Noisy operation: Unusual sounds such as buzzing, clicking, or rattling may indicate underlying issues with components like the compressor or condenser fan.
Water leakage: Leaking water inside or outside the refrigerator can be a result of a faulty water inlet valve, clogged drain, or damaged water line.
Freezer problems: Issues like insufficient freezing, excessive frost accumulation, or a malfunctioning ice maker can occur in the freezer compartment.
Defective control panel: Malfunctions in the control panel can affect temperature settings, lighting, and other functions of the refrigerator.
Troubleshooting Hisense Refrigerator Problems
When faced with a Hisense refrigerator issue, it's important to follow a systematic approach to troubleshoot and identify the underlying cause. Here's a step-by-step guide to help you diagnose and fix common problems with Hisense refrigerators:
 Step 1: Check the Power Supply
Ensure that the refrigerator is properly plugged into a functioning power outlet and that the circuit breaker is not tripped.
 Step 2: Verify Temperature Settings
Check the temperature settings on the control panel and ensure they are set correctly according to the recommended levels.
 Step 3: Clean the Condenser Coils
Clean the condenser coils, typically located at the back of the refrigerator, using a vacuum cleaner or a brush to remove dust and debris that can impede cooling.
 Step 4: Inspect the Door Seals
Check the condition of the door seals (gaskets) to ensure they create a proper seal when the door is closed. Replace any damaged or worn-out seals.
 Step 5: Clear the Drain
If there is water leakage or pooling inside the refrigerator, locate the drain and clear any obstructions using a pipe cleaner or a small brush.
 Step 6: Check the Evaporator Fan
Ensure the evaporator fan, located in the freezer compartment, is functioning properly. It should circulate cool air throughout the refrigerator. Clean or replace the fan if necessary.
 Step 7: Test the Defrost System
Verify that the defrost system is working correctly to prevent excessive frost buildup. Check the defrost heater, defrost thermostat, and defrost timer for proper functioning.
Tools and Equipment Needed
To effectively repair your Hisense refrigerator, gather the following tools and equipment:
Screwdrivers (Phillips and flathead)
Multimeter
Vacuum cleaner or brush
Pipe cleaner or small brush
Replacement parts (if required)
Safety Precautions
Prioritize your safety when repairing your Hisense refrigerator by following these precautions:
Unplug the refrigerator before conducting any repairs or maintenance.
Wear insulated gloves and safety goggles to protect yourself from potential electrical hazards.
Keep your hands away from moving parts, such as fans or motors, while the refrigerator is plugged in.
Cleaning and Maintenance Tips
Regular cleaning and maintenance can extend the lifespan of your Hisense refrigerator and prevent common issues. Consider the following tips:
Clean the interior and exterior of the refrigerator using a mild detergent and warm water.
Defrost the freezer and remove any ice buildup to ensure proper airflow.
Maintain proper ventilation by keeping a gap between the refrigerator and the surrounding walls.
Replace water filters according to the manufacturer's recommendations.
Periodically clean the condenser coils to improve cooling efficiency.
When to Seek Professional Help
While many Hisense refrigerator repairs can be done by homeowners, certain complex issues may require professional assistance. Contact a qualified technician if you encounter any of the following situations:
The refrigerator does not turn on or cool despite troubleshooting steps.
Compressor or motor replacement is necessary.
Refrigerant leaks or recharging is required.
The issue persists after attempting DIY repairs.
Tips for Preventing Future Refrigerator Issues
To minimize the likelihood of encountering problems with your Hisense refrigerator, follow these preventive measures:
Avoid overloading the refrigerator, as it can strain the cooling system and affect performance.
Close the refrigerator door properly to prevent air leaks and temperature fluctuations.
Regularly check and clean door seals to ensure a tight seal.
Store food in airtight containers to prevent odors and spills.
Schedule regular maintenance checks with a professional technician to ensure your refrigerator remains in good working condition.
Conclusion
Repairing your Hisense refrigerator is achievable with the right knowledge and troubleshooting steps. By following the outlined procedures, using the necessary tools, and practicing proper maintenance, you can often resolve common issues on your own. However, don't hesitate to seek professional help if needed, especially for complex repairs or persistent problems.
How long does it take to repair a Hisense refrigerator?
The repair duration for a Hisense refrigerator varies depending on the specific issue and the complexity of the repair. Minor problems can often be resolved within a few hours, while major repairs may take a day or more.
Can I repair my Hisense refrigerator myself?
Yes, many common Hisense refrigerator issues can be fixed by homeowners. However, it's important to have the necessary knowledge, tools, and safety precautions in place before attempting any repairs. If you are uncertain or uncomfortable, it's always best to contact a professional technician.
How often should I clean my Hisense refrigerator?
Regular cleaning is important to maintain the cleanliness and performance of your Hisense refrigerator. Aim to clean the interior and exterior of the appliance every three months or as needed. Additionally, perform a thorough condenser coil cleaning every six months.
Are Hisense refrigerator repairs expensive?
The cost of Hisense refrigerator repairs can vary depending on the nature of the problem and the replacement parts required. Minor repairs are generally more affordable, but major component replacements may be more costly. It's recommended to consult with a professional technician for an accurate assessment of repair costs.